Feature
"Invisible Glass" consisting of anti-reflecting coatings minimize light reflected from the glass.
In contrast with the luminous reflectance of bare glass on one side, which is approximately 4%, that of the invisible glass is only 0.08%. The anti-reflecting coatings have been designed to especially reduce visible light reflection to the human eye.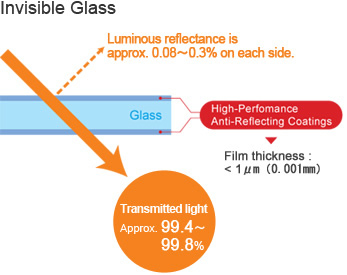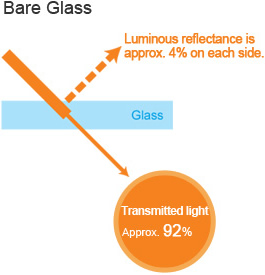 Specifications
Subject
Standard
(Approx. 5 layers on each side)
High-Grade
(Approx. 15 layers on each side)
Light transmittance*1
99.4%*2
99.8%*2
Max. Size
900×1,300mm
300×600mm
Max. thickness
8mm
4mm
*1:Absorption in glass is ignored.
*2:Transmittance may vary because some kind of glass has absorption in it.
*3:For information on handling and cleaning Invisible Glass, please contact us.
Comparison
Invisible Glass amazingly gives a crystal clear view.