Features
1. After exposure to fluorescent lamps for 20 minutes, Veluna emits unique green and blue light in the dark for more than one hour.
2. Veluna becomes luminescent repeatedly by replenishing energy with black lights or fluorescent lamps, etc.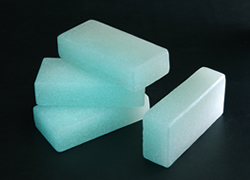 Applications
・Supplementary luminescent materials for interior-related usages
・Supplementary luminescent materials for pavements and parks, etc.
・Wall displays
・Design materials for monuments and works of art
Line-up
BRICK
Size 100×200mm

Thickness 50mm

Weight 2.3kg/piece
VOA
(the shape of square bar)
Size 50×50×1000mm

Weight 5.8kg/piece
BAN
(the shape of narrow rectangular plate)
Size 100×50×600mm

Weight 7.2kg/piece
PANEL
Standard Size 450×450mm

Thickness 18mm

Weight 50kg/m2
STONE
Size 20〜50mm
*Please ask us about the other shapes and sizes.
*All measurements are approximate.
*Both Veluna Bricks and Panels can not be made to precise thickness and will have some thickness variation from piece to piece.
Properties
After 20 minutes under the fluorescent light
(1,000 lux)
Illuminating Time
5min : approx.240mmcd/m2
20min : approx.100mmcd/m2
60min : approx.30mmcd/m2
Notice
Veluna collects and stores light on exposure to short-wavelength light (ultraviolet rays) such as that of fluorescent lights. The use of light source without ultraviolet wavelength or lighting system with UV-ray shields is not recommended.